Why You Should Attend Your Next Yoga Retreat in Puglia, Italy
May 01, 2018
Wetravel Story Writer
Twice-daily yoga practice has an amazing effect on flexibility, peace of mind and feeling at ease in the body. Attending a yoga retreat gives you the opportunity to fast-track the benefits of yoga.
If you haven't practiced yoga often don't be put off by the idea that you must be a regular or daily practitioner to attend a retreat. Most people only give yoga practice part-time status and the simple act of getting onto the yoga mat to practice is usually fitted in, or indeed crammed in, around family demands, work and the rest of life. You will not, therefore, be alone on a yoga retreat - others will be in the same boat, struggling with initial stiffness and tight muscles, and hamstrings, whilst the body clock is challenged too, adjusting on the first few days to a new routine.
But what better place to go on your next (or first!) yoga retreat than to Puglia, Italy, with its beautiful whitewashed towns, stunning coastline and ancient farmlands with millions of olive trees, azure coast and friendly people? This part of Italy is often overlooked in favor of the north - don't make that mistake!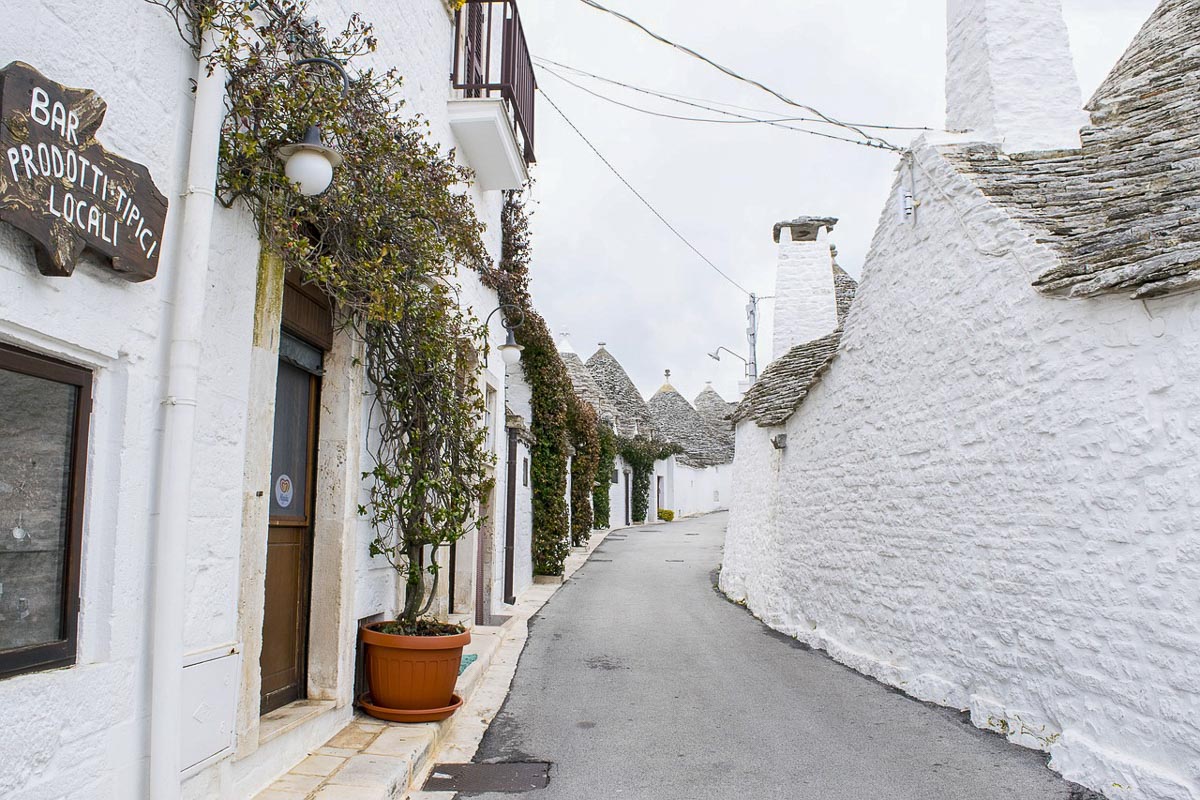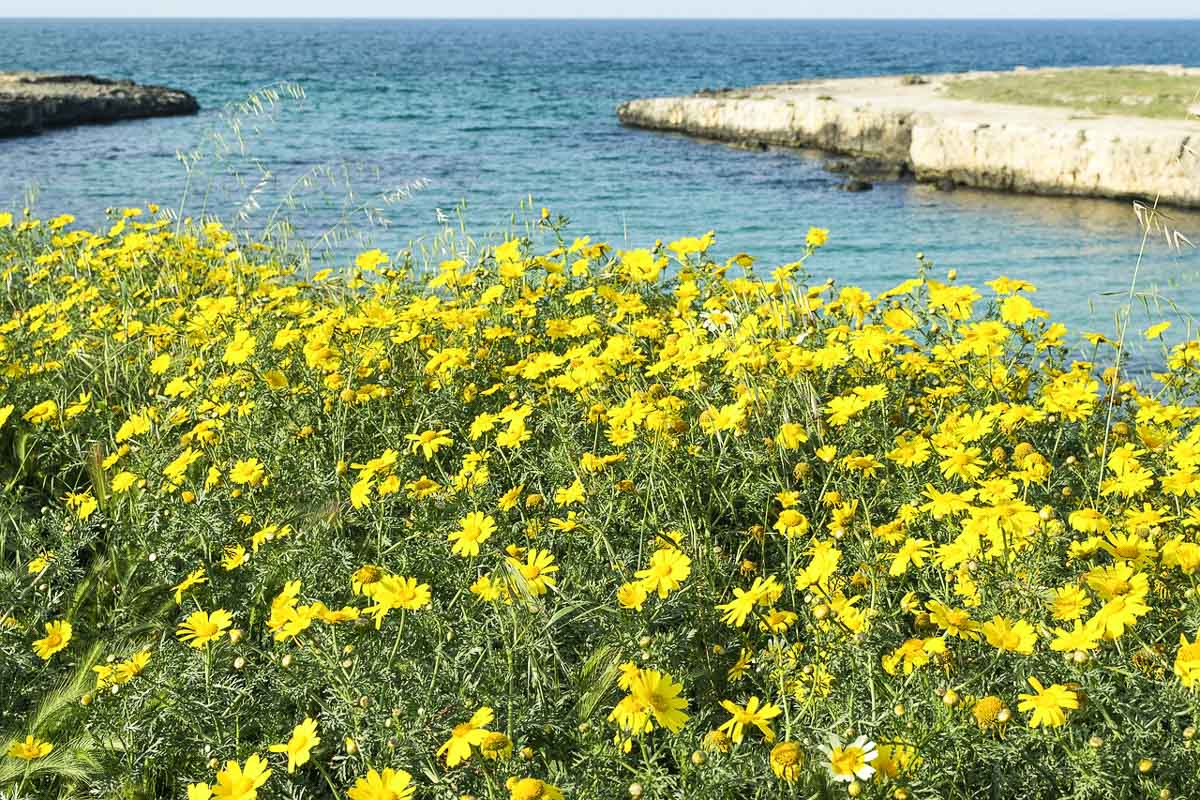 Why go to Puglia?
The Itria Valley is right in the heart of the Apulia or Puglia region and lies in the heel of Italy between the two main gateway cities of Bari and Brindisi, both of which have frequent international and European flights.
This green center of Puglia is a cultural destination, famous for hill towns and the countryside. Time truly stands still in this dream-come-true area. You won't notice time going by and you won't worry about it either! Here you can just enjoy and drink in the ambience, discovering the joys of the land, food, people and culture that is an inimitable, sensory mix of Europe meets North Africa - together with Moorish architectural influence, as well as Greek and Baroque/Roman, all of which are found in many of the typical towns of the region.
Every village or town is different from the next, each with a bit of its own unique history. The surrounding countryside with its verdant gentle hills, and is dotted with vineyards, and seemingly endless olive groves and whitewashed, conical-roofed Trulli houses, particular to the Puglia region. It is an ancient region filled with culture and tradition, both secular and religious - and with terrific food and wine that are always part of all the festivities, and with stunning views. Fish and seafood are widely available - and a big plus is you are never too far from the sea if you like swimming in crystal clear turquoise water!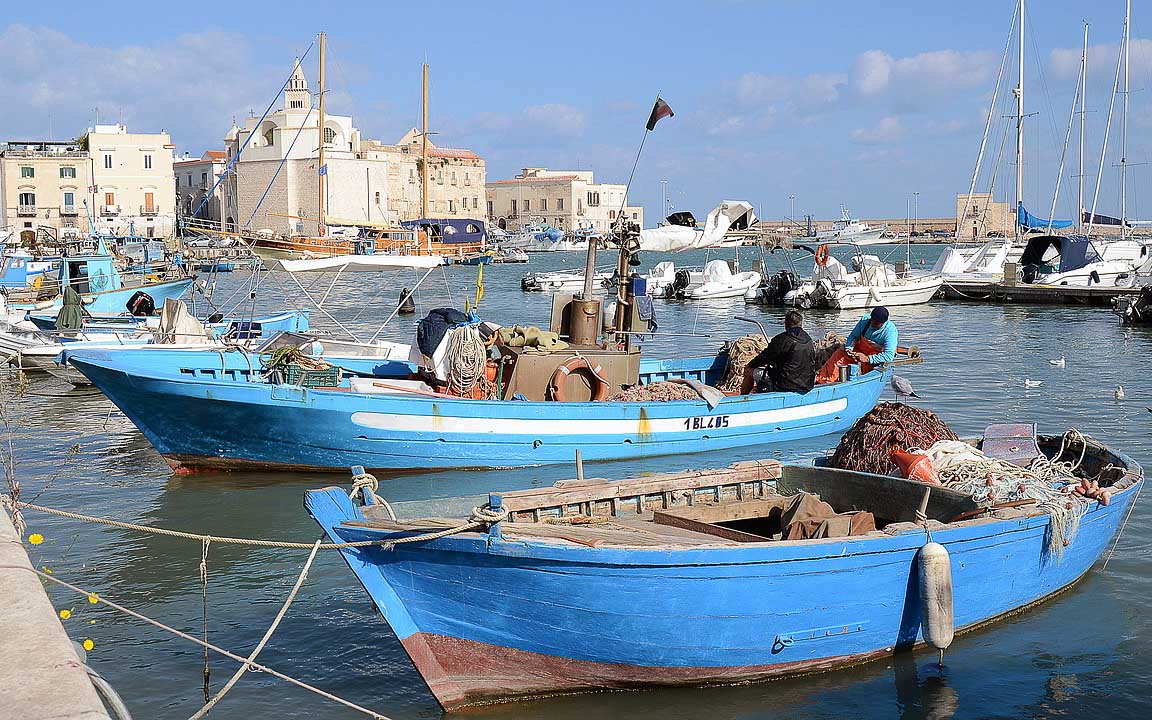 But why a yoga retreat in Puglia?
It is truly remarkable how fast change can happen when we immerse ourselves in a retreat. A yoga retreat can fundamentally and permanently change both physical ability and perception. During a week on retreat, you can literally go from being unable to touch your toes or do a forward fold to putting the palms flat on the floor.
Being able to step away from your daily routine, removing distraction, going deeper, learning from the same teacher and having consistency for the week to further your practice are just some of the benefits, and the experience is enhanced by the beautiful and peaceful and relatively unspoiled surroundings of the Puglia region.
And of course, you can indulge in some of the best food in Italy, with plenty of fresh local produce. Much of the wine and olive oil in Italy is produced here, along with the wheat used to make pasta and many different fruits and vegetables. The food is simple but nourishing and delicious.
Want to know more? Click here to see our next retreat in Puglia!
The beautiful towns of Puglia
Some of the towns that you should definitely visit while you're in Puglia are:
Alberobello
Alberobello is a UNESCO world heritage site and one of the most well-known towns in the Itria Valley. The fine array of conical rooftops, cobbled streets, whitewashed buildings and Trulli houses is magical. These prehistoric dwellings have more than passed the test of time and the architectural technique used to construct them is to be highly respected and admired.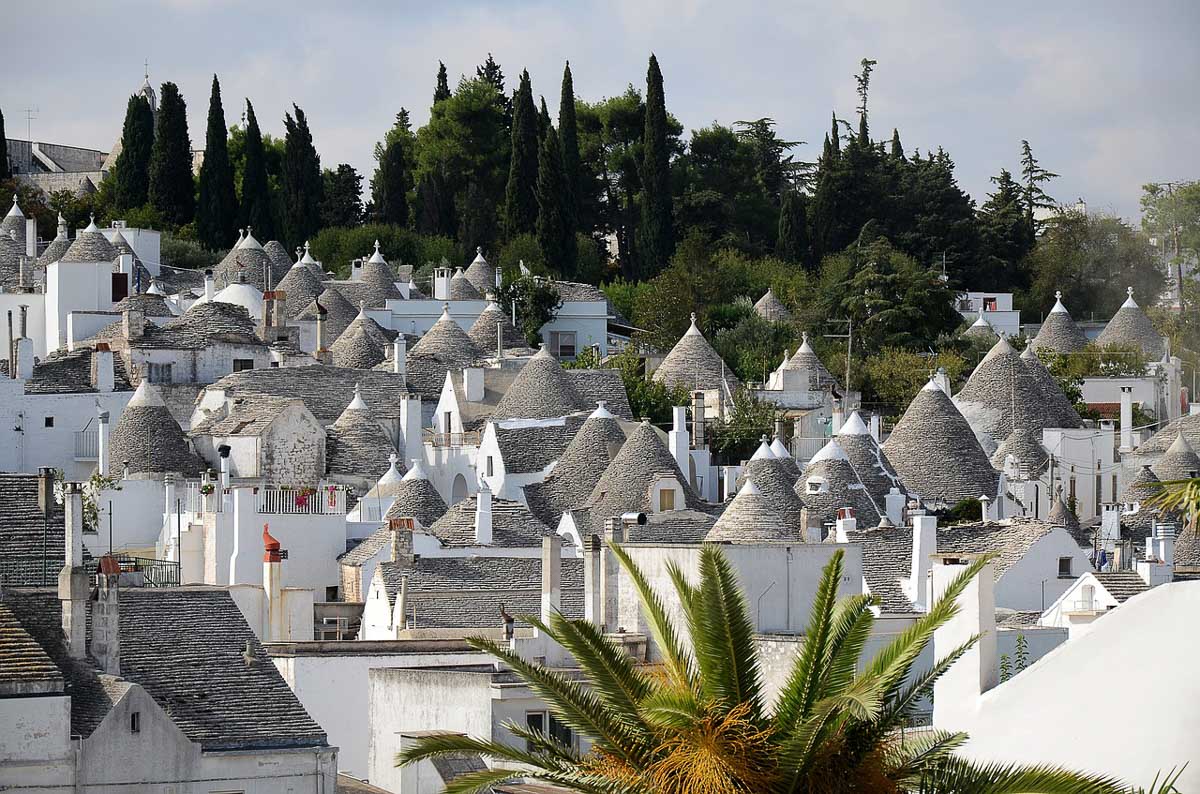 Locorotondo
Locorotondo is a circular hill-top town. Its prominent position on top of the hill means it is visible from miles around with stunning views across the whole of the Itria Valley. Many of the buildings here have pitched roofs known as cummerse, an architectural style particular to Locorotondo, and the town center is a plethora of white alleyways, punctuated with piazzas and churches.
Ostuni
Ostuni is another must-do town. It is known as the white city, and is an impressive hill-top white town with a history dating right back to the Stone Age. Again, with ancient cobblestone streets, grand churche, and quaint white houses, Ostuni really is stunningly beautiful. The Cathedral and the Bishop's Palace are not to be missed.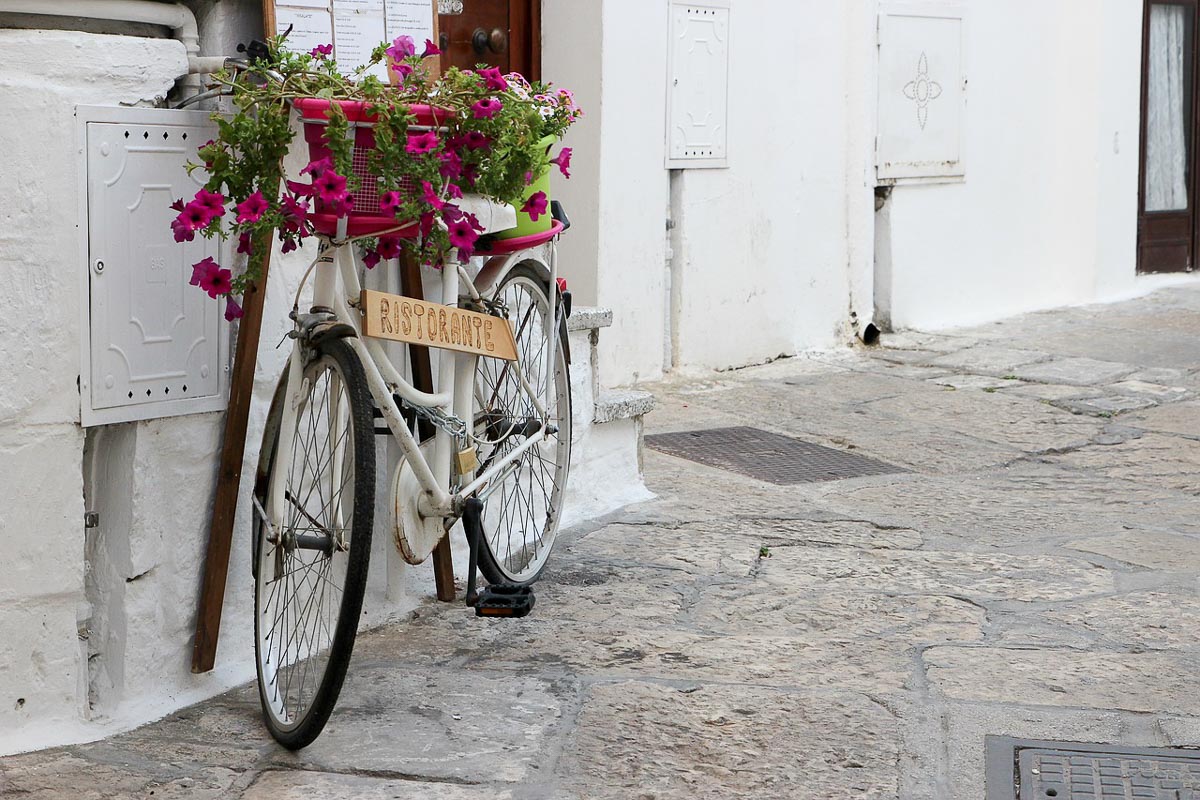 Cisternino
Cisternino is often cited as being one of the most exquisite towns in Italy. For me, in addition to the old town itself, one of the biggest attractions is Babaji's ashram, Ashram Bhole Baba, which isn't far from here and is like a little piece of India in Italy. You can just show up and join in the meditation! Picturesque lanes in Cisternino lined with the typical whitewashed houses make this medieval town delightful, and, again as it sits up on a hill, the views are spectacular.
Polignano a Mare
Polignano a Mare isn't actually in the Itria Valley but it is a coastal town that deserves a mention. It is located in the Commune of Bari and Polignano a Mare can trace its origins back to the 4th century BC when Greek settlers arrived here and founded Neapolis. This is the perfect town close to Bari from which to enjoy the beach, the turquoise blue of the Adriatic Sea, and the warmth of the Puglian sun.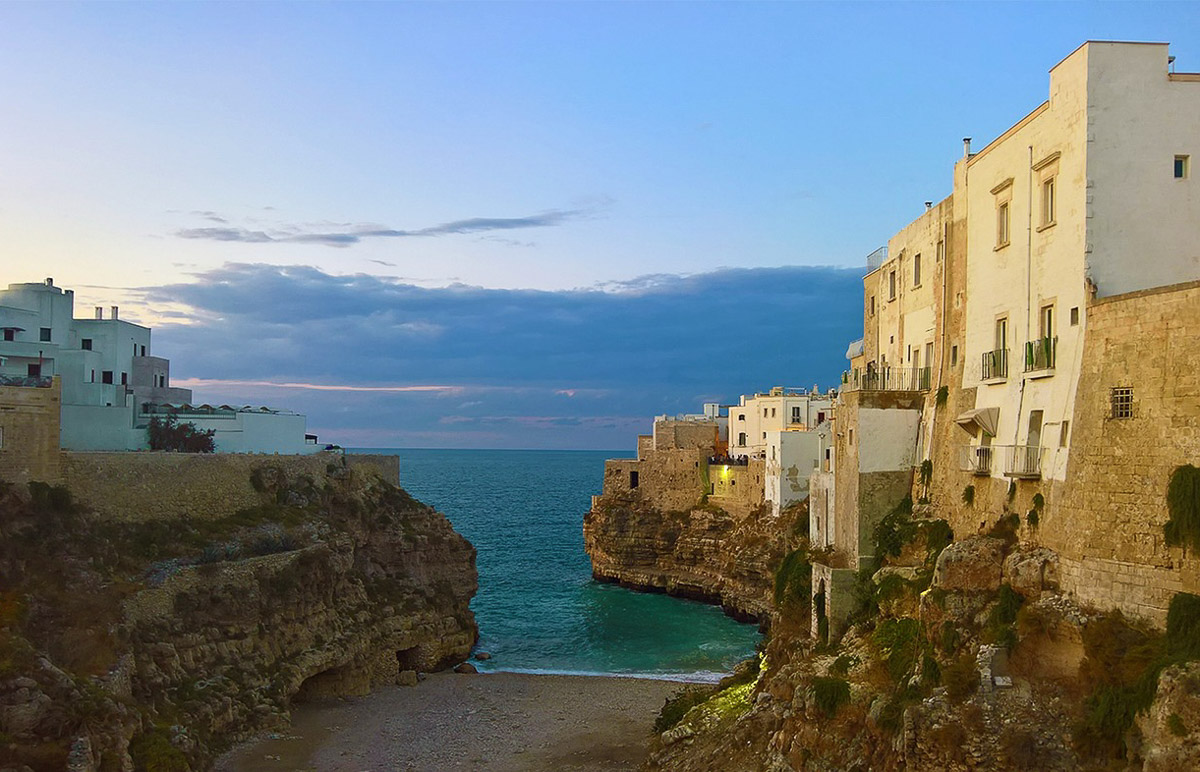 Martina Franca
Martina Franca is the largest town or 'paese' in the Itria Valley with roots from the 10th century AD. It is in the heart of the valley and an effective base from which to explore the rest. The old center has some beautiful baroque architecture - the Palazzo Ducale and the Basilica di San Martino - and delightfully quaint streets. There is also a charming family run restaurant called Osteria del Coco Pazzo, that is in a vaulted, church-like space that serves really authentic and delicious Puglian food and wine.
A Yoga Retreat in Puglia in 2018
Ten minutes from Martina Franca is where our next yoga retreat will be held from June 23-30 2018. June is after the spring rain and the gentle scirocco wind blows and the land and sea are still clean and in full blossom. It will be held at an old farmhouse or 'masseria', which consists of the main building, many outbuildings, and bedrooms inside the conically shaped Trulli. The yoga shala building was a monastery once and the energy of La Rosa dei 4 Venti, which means Rose of the Four Winds, is phenomenal. You can really feel the history and the sacred space that once was, left over from the days of the monastery gone by.
Samacitta offers a week-long yoga retreat in Puglia. Katrina Johnston is a bodyworker, retreat organizer and founder of Samacitta, and the organizer of the June retreat with co-host yoga teacher Monica Marini. Monica Marini of Yoga Morphic will be teaching at La Rosa dei 4 Venti starting from £875 excluding flights. The nearby airports of Bari or Brindisi have the most international flights available.
We can't wait to see you for your next yoga retreat in Puglia in June!
New resources, straight to your inbox
Get updates on the latest industry trends, tips, and news.
We're committed to your privacy. WeTravel uses the information you provide to us to contact you about our relevant content, products, and services. You may unsubscribe at any time.
About the author