WeTravel Expands FinTech Offerings with Instant Payouts Feature Launch
April 19, 2022
Johannes Koeppel (he/him)
The business's most-recent Instant Payouts feature release—initially launched for U.S. bank account holders, with plans to scale globally—highlights the industry's growing need to support local suppliers and contractors with instant access to withdraw cash funds.
Building industry-leading solutions for the multi-day travel industry has required closely listening to stakeholders' evolving needs for SaaS and FinTech that support the industry's back-end operations.
So, every year, we survey our users to better understand how we can enhance our platform to meet their needs.
Among the many ideas presented in last year's survey results (some being worked on by our Product and Engineering teams now) a recurring theme was the overwhelming need for quicker access to cash.
Our Supplier Transfer network and WeTravel Card already provide our clients the ability to instantly pay suppliers; however, our new Instant Payouts feature answers their frequent need to pay these partners in cash by making possible immediate access to funds from any ATM or bank.
Why Now?
The need for instant access to cash has been long standing; however, the technology that supports it is relatively new, especially in rural areas.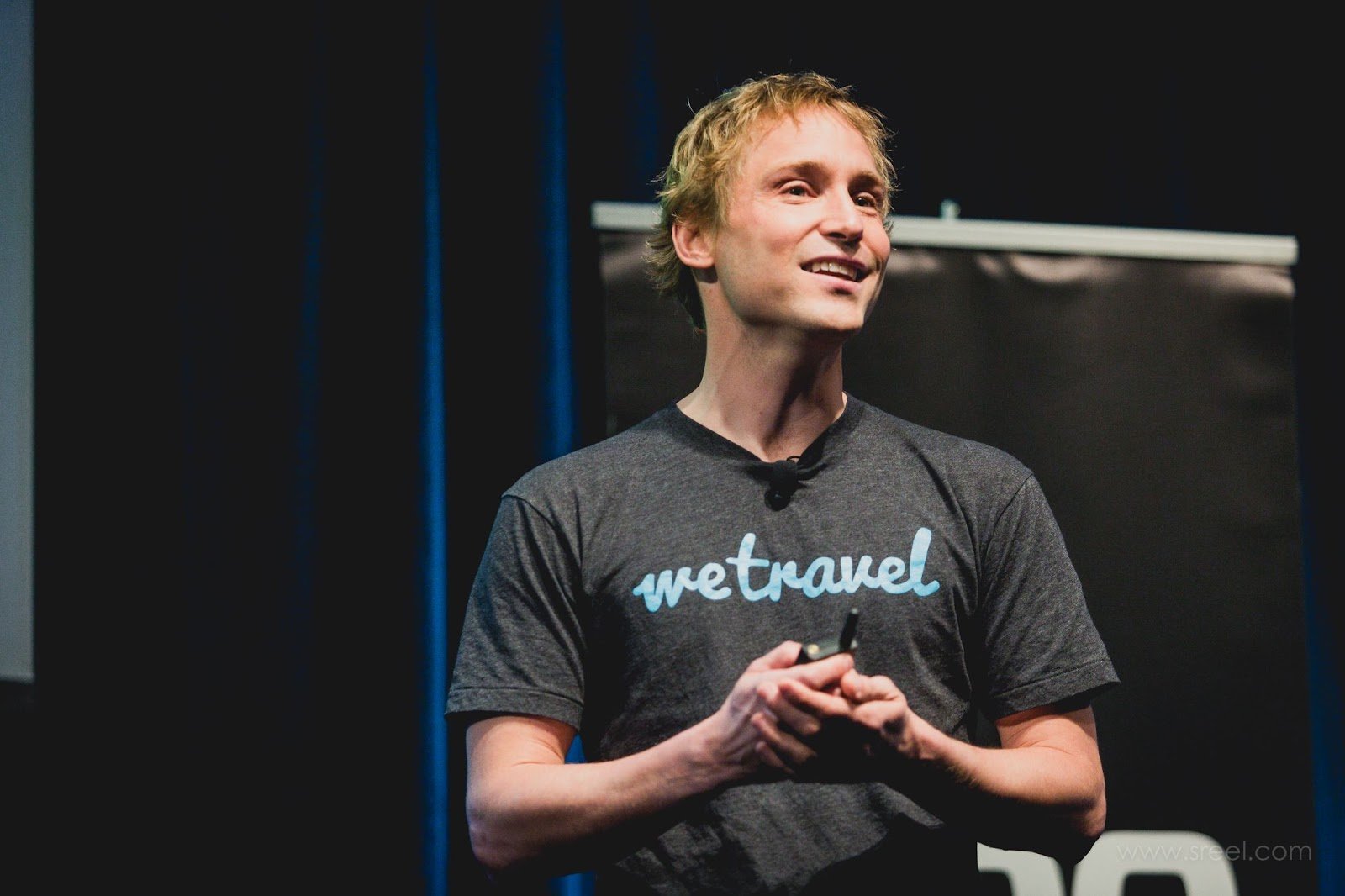 Johannes Koeppel, CEO and co founder, speaking at an event
Since founding WeTravel in 2016, now with more than 3,500 users globally–many SMBs in small, local communities–we've heard on-going requests for FinTech solutions to reduce the pain points from traditional payment methods, as mailed or wired payments are often delayed or lost. Operationally, this caused on-the-ground issues, while also delaying payment for local businesses, people and communities, who were reliant on cash for day-to-day living.
Of course, FinTech has made instant payments possible in many sectors. However, in the travel industry (which relies on local SMBs and suppliers), technology-driven payments have been slower to roll out.
At WeTravel, we started tackling this problem early on, introducing instant supplier payments through our WeTravel Credit Card and Supplier Transfer network in the past few years. Our introduction of Instant Payouts for cash withdrawals is the next step in this evolution as we continue to match new technology to unmet needs.
What Do "Instant Payouts" Mean To The Industry?
Essentially, it's another advancement to provide travel businesses more options in terms of how they manage cash flow. Instant access to funds collected from traveling customers makes for smoother operations and healthier balance sheets; it enables on-the-ground staff to access critical funds that must be paid up-front.
What does this mean for a travel business?
For on-the-ground tour leaders, payments can instantly be withdrawn in cash to pay local suppliers (think: community-based tourism projects) throughout a trip's duration. For these local partners, it means instant access to payments; for those operating with limited working capital, it can be the difference between a business's success and failure.
According to the Global Online Travel Payment report 2021, "Technology-driven solutions in travel payments will help the travel industry recover after major disruptions due to the COVID-19 health crisis." One trend it highlighted is the increasing use of technology in online travel payments.
Of course, since we co-founded WeTravel in 2016, technology has guided our product and our mission. We expanded from a booking and payment collection platform to the industry leader in vertical SaaS and FinTech solutions for multi-day travel companies. The extension of the product into instant payment methods—bypassing credit cards and banks—is in line with its mission to adopt technology to better service the industry's needs. We're excited to offer it as a roll-out to our U.S. users.
New resources, straight to your inbox
Get updates on the latest industry trends, tips, and news.
We're committed to your privacy. WeTravel uses the information you provide to us to contact you about our relevant content, products, and services. You may unsubscribe at any time.
About the author
Johannes Koeppel (he/him)
Johannes is WeTravel's CPO and Co-Founder. With fellow U.C. Berkeley classmates, Johannes led WeTravel from a start-up in 2016, to the world's only all-in-one FinTech and SaaS platform built for multi-day travel businesses of all sizes. Currently residing in Amsterdam, he's an explorer at heart—visiting political prisoners in Uzbekistan, budgeting HIV projects in Swaziland and managing the Red Cross office in Tajikistan—an avid surfer and, naturally, obsessed with technology.